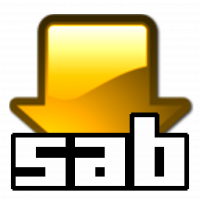 In my last post I explained how to avoid fake codec crap releases when downloading from usenet through your favorite indexer. If you have a private indexer like dognzb.cr which supports the new Sabnzbd feature 'New nzb download on failure' you can tell Sabnzbd to grab a new similar nzb release from dognzb.cr automatically. This feature is available in Sabnzbd 0.7.18 and later versions which provides support for X-DNZB-Failure headers. This can help deal with DMCA takedowns.
The currently supported indexers are dognzb.cr and oznzb.com
Updated for Sabnzbd 0.8 and later
Make Sabnzbd Retry Failed Downloads
Go to the IP of your Sabnzbd installation at its local IP http://ip.address:8080/config/special
Scroll down till the bottom until you see new_nzb_on_failure (off) and check its box
Click Save Changes.
Note: the (off) just means that off is the default setting, once you check the box the feature is enabled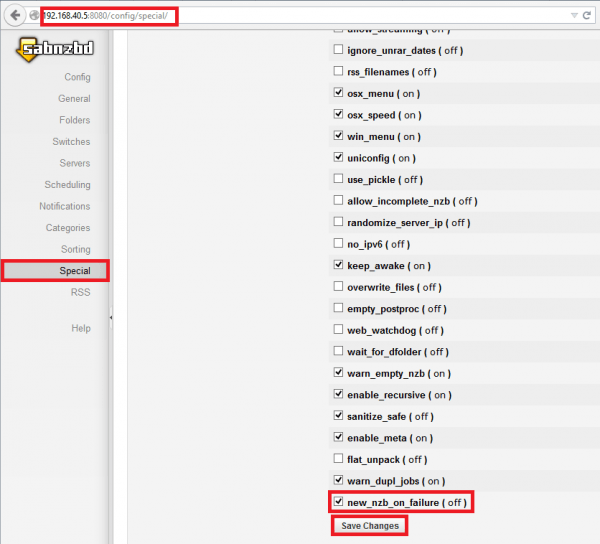 If you are on a newer version of Sabnzbd it is under Switches instead
Under the Post procesing section check On failure, try alternative NZB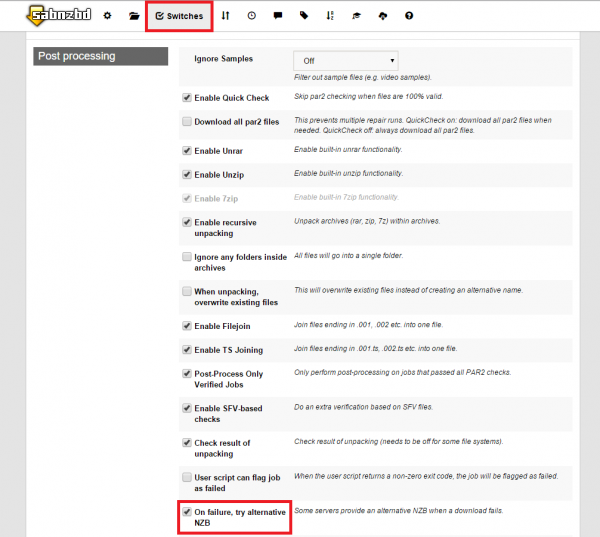 That's it. Now if you grab a tv show or movie from usenet and it is a fake codec release or virus Sabnzbd will automatically tell your indexer that it failed and request a new nzb from your indexer. Sabnzbd is retrying failed downloads :).