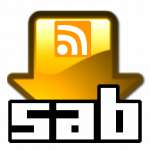 Sometimes certain tv shows you want to get from usenet do not download automatically through Sickbeard or Nzbdrone. Fortunately there is a work around using Sabnzbd RSS feeds. RSS feeds are automatically updated with all the releases for a certain category of your usenet indexer (like dognzb.c or nzb.su). This guide will show you how to get that show that is on usenet but isn't automatically downloading through Sickbeard or Nzbdrone for one reason or another.
Download via Sabnzbd RSS Feeds
Open up the sabnzbd configuration page. The default is http://ip.address:8080
If you are already at the main page click RSS at the top

You can check the RSS checking interval. I do not recommend going below 15 which checks every 15 minutes as your indexer will probably get pissed and ban you for hammering. Click Save if you modify the Sabnzbd RSS interval.
Here is where you add a name for the RSS feed and input the Feed URL which you need to get from the indexer site itself. Click Add.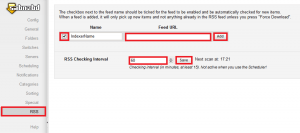 Now you'll see a list of the latest releases from the RSS feed.
You are able to use filters to customize the releases sabnzbd should download.
Make the sure filter is checked and put your show or other keyword in filter box and click Save.
By default Sabnzbd will only download new items that match the filters. You can even add reject filters.
If you have Sabnzbd category sorting enabled you can choose the correct category for the show or release to be sorted correctly.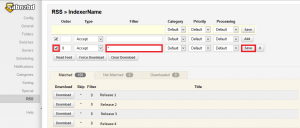 Click Rss on the left hand side and you will see your RSS feed. This is where you can delete the feed if you made a mistake by clicking the X button.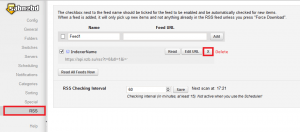 This method is not restricted to tv shows only. You can use it to get any release that programs like Couchpotato and Nzbdrone do not get automatically. One of the drawbacks of this method is that it will download all new items in the RSS feed that match your filter. That means if there are reposts of the same tv show it will automatically download them. However, it is a small price to pay for automating the shows nzbdrone or sickbeard are failing to grab for you.