Usenet vs torrents, which is better? It is a continued debate online and something which is worth examining in some detail to get a proper answer. I thought it would be a good idea to explain how torrent and usenet services work so you can judge the merits of each by yourself. It is important to understand the advantages and disadvantages of usenet and torrents when you are downloading content online that may have questionable legality. In this article I explain how usenet and torrent technologies work, the risks associated with each and how to download safely and efficiently with an automated download system for your HTPC home media server.
Torrent and Usenet Comparison – Which is Better?
I am doing a presentation at school about usenet and torrents and I thought it would be a valuable article for those interested in how these technologies work. All of the pretty pictures and diagrams that I created are not for redistribution. The torrent copyright infringement letters are not mine and were readily available on Google. This article is for informational purposes only and does not encourage or condone pirating copyrighted content.
What is Usenet?
When the internet started, its users began to communicate to share information. Private communication usually happened through email and public communication through usenet. If you wanted to talk in an open forum you could post a message on to usenet. It was a place for academics to share ideas or ask questions and get responses from others in usenet groups relevant to their interests. For example, psychologists could post questions in the newsgroup alt.psychology. Early usenet was primarily for sharing text because the bandwidth of the internet was so restricted, but eventually usenet users wanted to share files (binary data) with one another. Users could then share files like spreadsheets or academic papers by uploading them to binary usenet newsgroups like alt.binaries.psychology.
Anybody with an account with a usenet provider can post any text they want in a newsgroup, they can also read any post in a newsgroup. Similarly anybody with a usenet account with access to binary newsgroups can download files posted in binary newsgroups. The open nature of usenet means that vast amounts of data are stored on usenet servers, especially for the binary newsgroups where media files can be stored. It also means that, because so many files – video and audio content – are uploaded daily, that there is a retention level for most usenet servers. The retention level is how long data posted on usenet remains on usenet until it is discarded. Retention is always measured in days, currently UsenetServer has 2500 days of retention which means If somebody uploaded a picture of their dog into alt.binaries.dogs on December 5, 2009, it would still be accessible on December 5, 2015.
Usenet Downloading Process
The Usenet download process is quite simple. You use a usenet download client to connect to a usenet server provider and choose the files you wish to download at the full capacity of your internet connection. You download securely through an SSL encrypted connection between your computer and the usenet provider.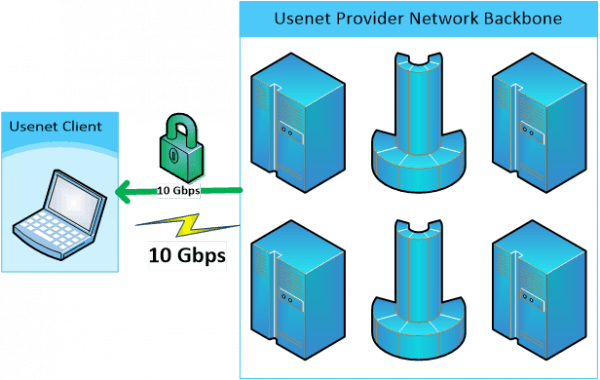 Usenet Risks
There are no risks from downloading via usenet if you use SSL as encryption. Unlike torrents, people are unlikely to be pursued for uploading to usenet unless they are extremely persistent offenders – the only article I have found was about two individuals who uploaded thousands of ebooks, understandably the publisher got very angry – they should have used a VPN and would have been safe.
There have been many court rulings about usenet service providers which always go in the provider's favor (read: Usenet provider not required to filter pirated content) so you can expect that usenet providers are here to stay, especially large Content Delivery Networks which have network backbones on several continents with serious bandwidth to deliver data around the world – including files on binary newsgroups.
Usenet Advantages
The top advantage of usenet is the anonymity. When you use SSL encryption anybody spying on your connection will only be able to see you have connected to a usenet server, they cannot see the content of your downloads. This makes usenet extremely secure. The other advantage is the speed, when you download from UsenetServer you are downloading straight from a network backbone of the internet. Backbones of the internet run fiber technology which allows data to travel in the form of light pulses. Fiber technology is only limited by the hardware which is sending the requests so you are very likely to max out your internet connection when downloading from usenet.
You will never get copyright infringement letters if you only download from usenet. The amount of content on usenet is absolutely massive, there are videos, audio files, digital simulators, literary content and almost anything you can think of, if somebody wanted to share it and they uploaded to usenet, it's there for the taking.
Usenet Disadvantages
Accessing usenet provider costs money. When you have access to a 10Gbps network backbone, which costs money to build and maintain, in order to use this backbone you need to support the company's maintenance costs. Usenet accounts range from $7.50 to $10 per month for good unlimited plans – meaning you can download as much as you like. I think it is a bargain given how much content you can acquire from usenet, you can always use a trial account to see if it appeals to you – just make sure you get a good indexer with open registration like OZnzb so you can find your desired content.
DMCA Takedowns
You may have heard of DMCA takedowns, the Digital Millenium Copyright Act was created to protect service providers from being legally responsible for the content its users upload as well as the content of rights holders. If copyright holders are aware that their content is posted somewhere for everyone to download they can issue a DMCA takedown request. The service provider must honor the request in order to follow the law and remain in business. This is the main aspect of usenet which new users get frustrated with, they feel they spend money on a service and expect that service to be flawless. What is important to remember is that businesses must operate within the confines of the law. DMCA requests will never go away and automation is usually necessary to get the maximum value from usenet. It is important to note that DMCA takedown requests are honored on all providers.
Torrent Software Technology
Torrents were created as a file sharing solution known as peer to peer technology. Essentially one person can share a file through a torrent swarm and the file will be uploaded and distributed throughout the torrent swarm, an in-depth explanation with diagrams follows.
What is Torrent technology?
This diagram shows how torrent technology works. You have a torrent client which is your computer. When you download a torrent file from a torrent tracker and open it in your client it connects to the unencrypted torrent swarm. The torrent swarm consists of peers and seeds. Peers already have some portion of the content you are trying to download – green lines – and they upload to other peers and you – represented by the red lines. Seeds already have the completed download and are strictly uploading to other peers in the torrent swarm. The torrent swarm is entirely unencrypted making it very easy to spy on by anybody in the torrent swarm. Remember joining the torrent swarm is as simple as acquiring a torrent from a tracker and opening it with a torrent client like uTorrent, Transmission, Deluge, rTorrent and others.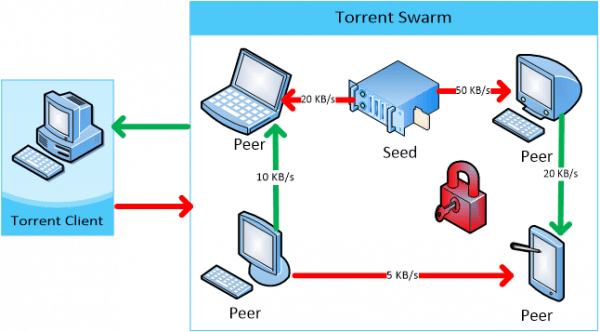 Torrent Risks
If you are downloading copyrighted material from torrents there are risks.
This is the kind of letter you risk receiving when downloading from torrents without a VPN.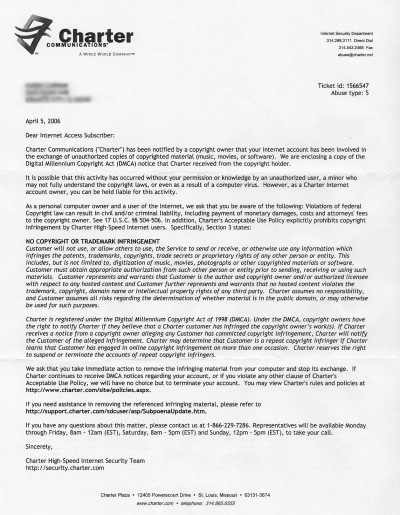 This is a notice of illegal downloading from torrents via Comcast in the USA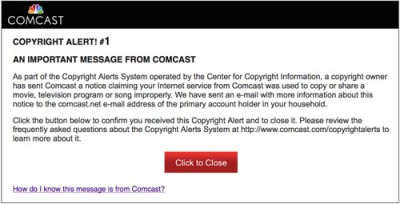 Here is a copyright infringement letter from the New Zealand provider Orcon.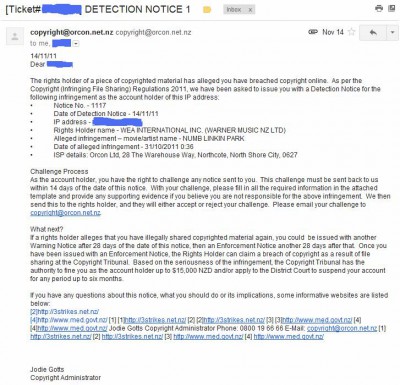 The solution to secure, anonymous and private torrenting is using a VPN or Proxy Server. VPNs encrypt your data traffic while torrenting and mask your IP so anybody snooping or spying on the torrent swarm sees the VPN IP address and not your own. Using a service like Private Internet Access or Pure VPN means your IP is not known to the torrent swarm, they see the VPN provider's IP. Since IPs are how you are identified online, it is imperative to mask it while engaging in torrent downloading.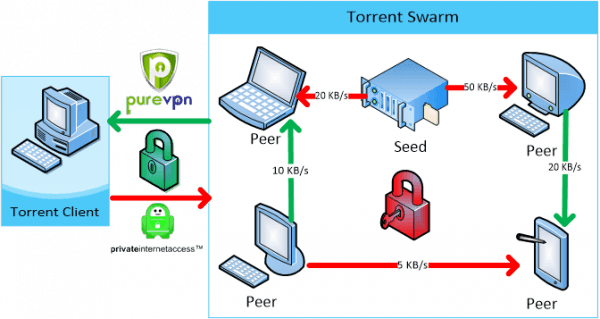 Torrent Advantages
Torrents are very easy to use. Just download a torrent client like uTorrent, go to your favorite tracker and download the torrent file. Open the torrent file in your torrent client and whatever you wanted starts downloading. It also encourages sharing which is important, even if many people do not seed because it slows down their connection. Torrents can also be useful for finding old and rare media like movies and TV shows. If the content you are looking for has been taken down from usenet, torrents may be your only choice if you don't want to wait for it to be reposted to usenet.
Private torrent trackers are often geared towards a specific type of content like video or audio files. On these private trackers one must maintain a ratio by uploading as much as they download to make sure they are pulling their weight. These communities also encourage sharing and therefore can have very large archives of rare media, as long as the rare torrents have seeds you will be able to download the item you want.
You usually do not have to worry about DMCA takedowns with torrents although KickAssTorrents have begun honoring DMCA takedown requests.
Torrent Disadvantages
The major disadvantage of torrents is the inherent insecurity of the technology. Anybody who can enter the swarm by downloading the torrent file from Piratebay or KickAssTorrents and then sniff the traffic. I actually know someone – not a professional programmer – who created a program you can use to sniff torrent traffic. This means it is ridiculously easy to see who is downloading illegal files via torrents. The other inherent disadvantage of torrents is the speed. Because you are downloading from individual machines around the world, those people need to have serious bandwidth to max out your internet connection. If there are only a few seeds you may get a very poor download speed, some of you may have experienced this: you found an unpopular torrent with 1 seed and had to wait several weeks for it to download. If there are no seeds, you cannot download at all. This leads to the last disadvantage which is that you have to use your upload speed on your personal internet connection which reduces your overall bandwidth and slows down the connection for the rest of your household.
Usenet vs Torrents
Instead of writing a huge point by point comparison I have created a table showing the key points of how torrents and usenet differ as well as their similarities.
Item

Usenet

Torrents

Availability of content

Within Retention

Requires Seeds

Speed of downloads

10 Gbps

Limited to Swarm Speed

Is it secure?

Yes SSL

Secure with VPN

Do I need a VPN?

Uploading only

Yes

What does it cost?

Usenet Provider
$7.50

VPN Fee
$3.33

Who do I download from?

Network Backbone

Other Torrenters

How do I download?

Sabnzbd, NZBGet

uTorrent, Transmission, Deluge, rTorrent

Where do I find content?

Indexers
OZnzb, DOGnzb, NZB.su

Trackers
Piratebay, KickassTorrents

What files do I need?

NZB files

.torrent files

DMCA Takedowns

Yes

Less likely
Downloading Safely and Efficiently
Downloading Efficiently
Whether you choose to use usenet, torrents or both, it is possible to automate your downloads. You can create lists of media and have a home media server automatically search torrents or usenet indexers to grab the required files from the torrent swarm or usenet provider. All software described here works on Windows, Mac OSX, Linux, Raspberry and Banana Pi. All the software is free too.
For torrents, using a VPN of course the automated system is as follows. You think of video content and add it to the programs Sonarr or Sickrage for periodic content and CouchPotato for larger videos. Both of these sets of programs will search the torrent trackers you have added to the program and it will send the torrent files to your torrent downloader. The torrent downloader will in turn connect to the torrent swarm and download the files. When it is done the programs Sonarr, SickRage and CouchPotato will post-process the releases which means placing them in a nice folder structure for you to be able to stream around your house. As long as the media release can be found on your trackers, the system will automatically download them for you at whatever speed the swarm can give you.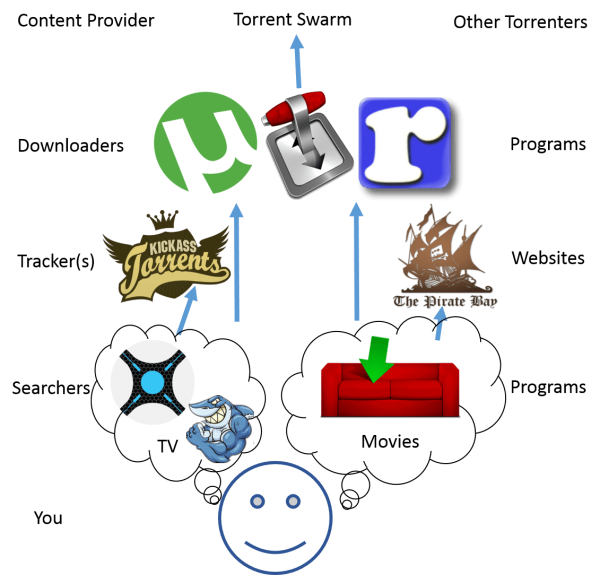 Similarly to the torrent setup, the usenet automated downloading system on your home server is unsurprisingly similar. It uses the same software, the key difference is that SickRage, Sonarr and CouchPotato will search your usenet indexers like OZnzb, NZB.su and DOGnzb and send the nzb files to your usenet downloader Sabnzbd or NZBGet. The downloaders will grab the files at the maximum speed from the usenet network backbone which will usually be the highest download speed your internet connection allows. The software will post-process the releases and sort them nicely for you in an organized folder structure.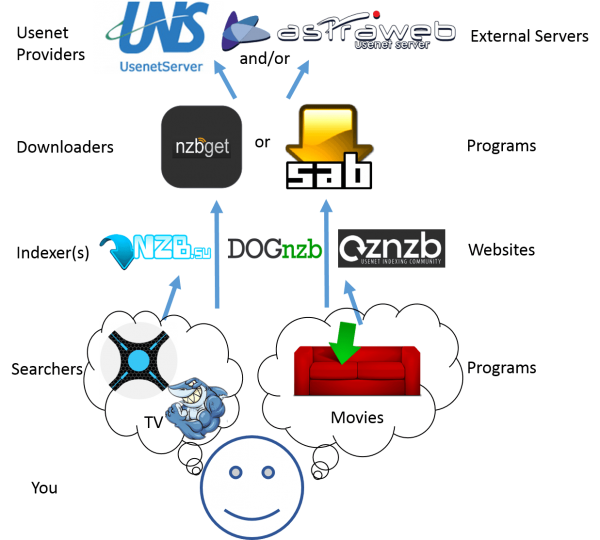 Once you have acquired the media you can optionally stream it through DLNA (a protocol for streaming media files) to any supported device in your home. For this you can use a low-cost option like a Raspberry or Banana Pi to stream via miniDLNA or use a NAS server or an old laptop via Plex Media Server. You don't even need to use DLNA if you don't want to but most seem to prefer this sort of setup. Then you can watch the media on a device with XBMC or on your tablet, smartphone, TV, XBOX, Playstation or other device. MediaBrowser is a relatively new home media streaming solution which may be of interest to you as well.
The Power of Usenet and Torrents
Because the software for searching your usenet indexer or torrent tracker is the same it is actually possible to reap the benefits of both worlds. I will be publishing guides in the future to show how to make Sonarr and CouchPotato work with torrents and usenet, my SickRage guide already includes usenet and torrents.
So where does all this information leave us? The way I see it the optimal way to download content safely from the internet is to use a combination of usenet and torrent technology services to get the best of both worlds. Primarily using UsenetServer with their free VPN service gives you access to a fast backbone to download new content before it may be taken down due to a DMCA request. The UsenetServer free VPN service with annual subscriptions can be used to connect to public or private torrent trackers to download any content not available on usenet. This to me seems like the safest, most streamlined method for acquiring content online. If you already have a usenet account and just want a VPN, I can recommend Pure VPN and Private Internet Access. If you already have a VPN and want to try usenet, you can get a free trial with UsenetServer or Astraweb. Unfortunately Astraweb has no free VPN service.
This table shows Usenet providers, free trials are possible for both services, just cancel in time if you are not satisfied. Do make sure you create an automated setup to reap the benefits of usenet.
This table shows VPN providers which work on Windows, Mac OSX, Linux, Android. Remember that torrenting without a VPN is like a dumb teenager who has unprotected sex with the skankiest guy or girl around – you may get short term pleasure but in the long term it may not be worth it. With these VPN services you can cancel the trial if you are not satisfied.
If you know anybody who torrents unsafely or would be curious about how usenet or torrents work, please share this article with them. If you feel I missed anything important, please let me know in the comments.