The MK808b Plus is your portable media center. It runs on a fully unlocked and rooted Android system and has been so popular there are various custom ROMs available for the device. For the small form factor it packs a lot of power, wireless and USB connectivity. I like devices I can tweak and hack to make work the way I want but also work out of the box – the MK808b Plus hits that sweet spot to satisfy the noob and advanced user. Read on to see how well it performs for your HTPC media center needs.
MK808b Plus Review
I found the MK808b Plus on Gearbest when I was searching for a portable media center that would meet my demands and be flexible enough for me to try different operating systems on. Enter the popular Android HTPC TV Stick mysteriously named MK808b Plus.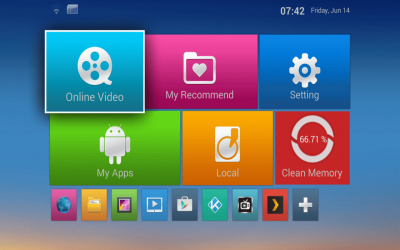 MK808b Plus Hardware
The MK808b Plus is a little beast, sporting the following components for your HTPC
CPU – Amlogic M805 Quad-Core 1.5 GHz (Cortex-A5)
GPU –  Mali-450 Quad-Core GPU
RAM – 1 GB DDR3
Storage – 8 GB NAND Flash, micro SD slot up to 32 GB
Wireless – 802.11 b/g/n WiFi and Bluetooth 4.0
Video Output – Mini HDMI 1.4b
USB Ports

1 USB 2.0 host port for hard drives and peripherals
1 mini USB OTG port for peripherals
1 mini USB for power

Power Supply – 5V 2A
MK808b Plus Software
The official MK808b Plus ships with Android KitKat 4.4.4 and comes bundled with several goodies. You will find Kodi 14.1 custmized with some of the most popular streaming plugins
1 channel
Genesis
Sportsdevil
Primewire
Navi x
Android versions of other useful software are available for this portable HTPC Media Center
Netflix
Hulu (installable)
Skype
Google Play Store
Plex (installable)
The Android ROM is totally unlocked and rooted so there is no nonsense like you get with the Amazon Fire TV or Fire TV Stick with having to jailbreak it so you can install what you want. No worrying that exploits which enable jailbreaking will be closed with future updates,  the MK808b Plus is a truly open device.
You won't be limited by a proprietary store like on the Roku or Amazon Fire TV units. You can sideload anything like Plex, TVMC, or any apk files that Google doesn't allow in its Play store. This is a huge advantage over the Amazon Fire TV series.
With the already unlocked MK808b Plus, you can change DNS Servers to workaround georestrictions with these helpful services
Operating Systems
ClockworkMod Recovery is available meaning you can install a number of other Linux based systems. Flashing is very easy, just drop a recovery.img on the SD card, hold the reset button when powering on and you can flash any compatible ROM.
Note: that the MK808b Plus is shipping with a new WiFi chipset and these ROMs haven't necessarily been updated with the new drivers just yet.
HTPC Media Center Experience
The ROM ships with Kodi 14.1 which is 2 versions behind the latest 15.0. They have customized it so it has a bunch of useful plugins and the quad core processor means you can navigate quickly through the menus. Comes with variety of plugins pre-installed, you get the usual clicking until you find a stream that isn't dead or doesn't buffer constantly (What is usenet?) but patience usually pays off.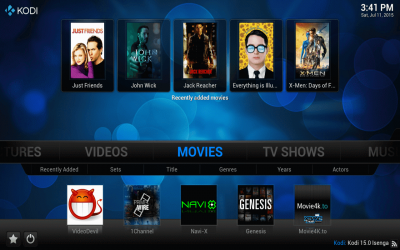 The shipped Kodi version struggled with some XviD AVI files at 700kbps with 48khz audio at 192kbps in their shipped Kodi 14.1. I had a similar issue with the same video file on my Galaxy Tab 2 running MxPlayer and I had to turn off hardware acceleration, the MK808b Plus is way more powerful than the Galaxy Tab 2 so I decided to try something else. Sideloading the custom Kodi 14.2 release TVMC I was able to play everything as normal so it seems there was either a bug in Kodi 14.1 or the customized version has some modified files. Either way, this was for old XviD encoded files whose format is rarely used nowadays, rest assured you can play all media on the MK808b Plus with the right software.
I insist on being able to play Mario Kart 64 on any device that lives in my living room. Installing Mupen64 via a sideloaded apk, I plugged in my off-brand controller and was playing Mario Kart 64 no problem. However, PSX and PSP was a different story and the framerate was just too low or ROMs didn't load on the manufacturers original android TV stick software. I had better luck with the CyanogenMod 12 ROM but PSP ROMs were slightly laggy.
One aspect of the Amazon Fire TV and Rokus that really put me off was the georestrictions and lockeddown-ness of the devices. I have a Roku in Scandinavia but I can't use Netflix on it because it is only available in North America. On the Amazon Fire TV I cannot put Kodi on without hacks and workarounds, after all Amazon are not interested in selling devices that you can use other (better) media software on. The MK808b Plus is not locked down like the Fire TV or Roku but still supports all the same apps that any Android device does like Netflix, Hulu and Plex. You have the flexbility of installing VPN app to use with OverPlay, Private Internet Access or PureVPN to workaround any silly georestrictions.
I have tried the Raspberry Pi as a media center and it is pretty great. However, it is missing Netflix and Hulu – Plex you can use PleXBMC. Since it costs the same as the Raspberry Pi but has more versatility, the MK808b Plus is the more flexible option if you want a restrictionless HTPC media center.
Conclusion
For the price, the MK808b Plus delivers in terms of value and performance. It works out of the box and will suit the needs of most users while still allowing advanced users to try different operating systems. The open, unlocked Android system means you can solve pretty much any hiccups you may have and sideload anything that you want. There are quite a few accessories you need to get for the full HTPC experience like this iPazzPort remote and a different HDMI cable if you want to use CEC. The GPU could also be more powerful so that you could play more emulators. Unlike other hardware manufacturers updates are not always their priority and I don't think there will be an official updated version of the Android ROM, luckily the MK808b Plus is so popular that developers are porting new operating systems all the time over at Freaktab.
Advantages
Powerful and affordable
Portable media center is brilliant for vacations and road warriors
Very noob friendly
Caters to advanced users with ROM availability
Fully unlocked, rooted and open
HDMI-CEC enabled
Disadvantages
Updates from the manufacturer themselves would be nice
Ethernet isn't plug and play unless you use a custom ROM
Users complain about WiFi range
HDMI-CEC can be hit and miss depending on the ROM used
Buy MK808b Plus
The MK808b Plus starts at around $29.99 which is very good value if you intend to use it like I have.
Summary
Reviewer
Review Date
Reviewed Item
MK808b Plus Android TV Stick for HTPC Media Center
Author Rating