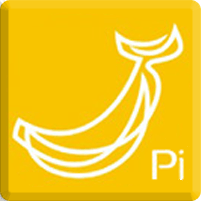 I heard about the Banana Pi in Linux User and Developer magazine. I was intrigued by the increased RAM and faster processor compared to the Raspberry Pi, especially since the Raspberry Pi is sluggish from time to time. The Banana Pi also has a SATA port which helps overcome one of the Raspberry Pi's greatest limitations, it's Input Output speed which is limited by the SD card. My Banana Pi arrived with today and I have already started creating HTPC media server guides for it. If you don't have one already, they are very affordable (around $50).
I have already installed NZBGet, Sonarr (NzbDrone) and SickRage. I can tell you the lag on Sonarr or SickRage on the Raspberry Pi does not exist on the Banana Pi. I installed nZEDb on the Banana Pi as well and it was able to index more groups than the Raspberry Pi. Once the Banana Pi SATA cable arrives, I will be connecting an SSD hard drive to it to run Raspbian or Bananian and connecting a 2 TB external hard drive for storing media. This thing is going to fly! (See Raspberry vs Banana Pi Benchmarks)
Pi Flavor

Processor

RAM

RAM Bus

Network

USB

SATA

Cost

Raspberry Pi

700 MHz ARMv6
Single Core

512 MB SDRAM

400 MHz

100 Mbit

4

No

$29.99

Banana Pi

1 GHz ARMv7
Dual Core

1 GB DDR3

432 MHz

Gigabit

2

Yes

$36.99

Beaglebone

1 GHz A8-Core

512 MB DDR3L

800 MHz

100 Mbit

1

4GB
MMC

$51.99
The arrival of the Banana Pi does not mean I will be neglecting the Raspberry Pi, my ultimate Raspberry Pi media center guide just needs to be proofread and then it will be published. I will of course update it in the future as software updates are published. My current plan is to setup Raspbmc or Openelec on the Raspberry Pi and use it as a media center connected to my TV. The Banana Pi will take over downloading duties and stream through DLNA straight to the Raspberry Pi. I will probably be using the iPazzPort on the Raspberry Pi running XBMC Kodi because of its full keyboard, for my significant other's TV she will get the infrared remote.
Edit: The Banana Pi Media Server Image is now live
You can stay updated with the Banana Pi guides I create by subscribing to my mailing list or following HTPC Guides on Twitter or Facebook. Most of the Raspberry Pi guides on HTPC Guides will work on the Banana Pi running Raspbian or Bananian.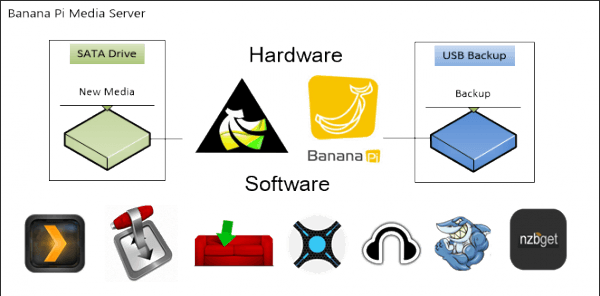 The Banana Pi Media Server Image is now available