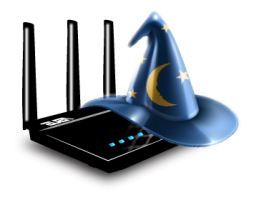 Install AsusWRT-Merlin custom firmware to extend the functionality of your Asus wireless router. RMerl provides the source code on github so you know there is nothing shady going on. The Asus routers are a fantastic choice for any user looking to get more power and convenience out of their home network. I am currently using the router for a range of features that are listed below. Installing the AsusWRT-Merlin custom firmware takes less than 5 minutes and a reboot. Other tutorials suggest you use the Asus restoration tool but it is an extra hassle, so this guide shows how to install the Asus Merlin firmware without the restoration tool.
Install AsusWRT-Merlin Custom Firmware
The fully supported list of AsusWRT-Merlin is here note that the U, R and W variants are all supported.
Below lists the excellent features of Asus routers and why I chose to buy one.
Asus Router Features
OpenVPN server – make secure connections to your home network away from home
OpenVPN client – connect to Private Internet Access, PureVPN or IPVanish from the router

Alter routing table to force specific network devices through the VPN

Think a torrent downloader that will only ever be allowed through the VPN and blocked if the VPN goes down

Connect 3G or 4G modem and set up failover internet connection
Optware – Install software (owncloud, web servers, transmission) on router
Dynamic DNS updating for any DNS service script you want
Lightweight NAS by attaching USB hard drives
I have whitelisted my dynamic DNS address on some of the servers I administer. By being able to VPN into my router from anywhere I can still have secure access to the servers from anywhere without having to expand the whitelist.
There are some files and programs that would be convenient to access that don't require super speeds. Various technician tools will be put on a USB hard drive and connected to the router so when I VPN in I can grab whatever I want via SFTP.
Optware-NG (next generation) allows you to install owncloud, nginx, transmission and other packages onto your Asus router. This will mean I can set up nginx reverse proxies on the Asus router itself. I also plan to install ownCloud on it and use the USB hard drive attached to the router.
AsusWRT-Merlin Custom Firmware Features
This is only a short list, here is the full Asus custom firmware feature list
Support for custom scripts like for Dynamic DNS
Policy based VPN routing to force torrent clients through the VPN while leaving all other traffic untouched
DNS filtering to force some devices to use specific DNS servers for child safety
2 VPN servers instead of only one – use one for admin and one for guests
Install AsusWRT-Merlin Custom Firmware Guide
Go here and download the latest Asus Merlin package for your router model
Inside the zip file, unpack the asus-firmware-xxx.trx file somewhere on your machine
Go to the Asus web admin panel at http://local.ip
Click Administration in the left pane
Click Firmware Upgrade tab at the top
Click Choose File and find the custom asus-firmware.trx file
Click Upload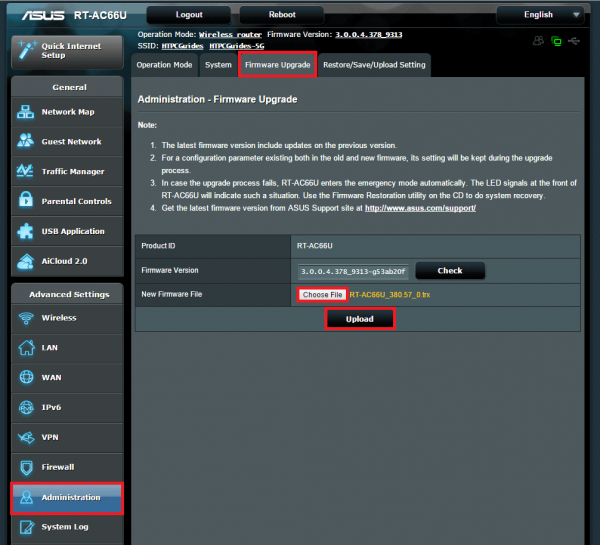 After a few minutes reboot the router and you can log in, now with the Asus custom firmare installed.