Using torrents can be risky nowadays. Governments seem to especially hate torrent trackers like Piratebay which was recently raided again. Using a Seedbox is an alternative to risking your own safety or using a VPN. The idea behind a Seedbox is that you pay a service provider to give you tons of bandwidth and also deal with the copyright notices and legal stuff associated with torrenting. This way you get faster speeds, are able to seed safely and can build a ratio well on a private torrent tracker. I have always been curious about seedboxes so I decided to try an SnT Seedbox. Seedboxes also mean you do not need a VPN provider.
SnT Seedbox Review
SnT Seedboxes have servers located in France and Netherlands. They do not keep any logs and any legal notices from authorities (AKA copyright trolls) letters are discarded. They accept Paypal, Webmoney and bank transfers for easy payments. If you prefer an anonymous payment option they accept prepaid credit cards. You also do not have to use any real customer information like your address or phone number when you sign up as all communication goes through email. When you sign up it is only month to month, so you are not locked in to any contract. If you are not satisfied with their service and tell them within the first 3 days, you will be refunded for the month. Online support is available 24 hours a day, 7 days per week. SnT lets you use private and public torrent trackers which not all seedbox providers do.
All the shared seedboxes have 8 GB of ram and 8 CPU cores doing the heavy lifting with a 100 Mbit connection burstable to 1 Gbps. You share this box with 8 other users meaning you are guaranteed 1 core and 1GB of RAM, however the seedbox is burstable to the full capacity of the machine. This means that you harness the full capacity of the machine when the other users you share with are inactive so you can get network speeds up to 1 Gbps. The main difference between the seedbox plans is the hard drive space, unsurprisingly more money gets you more hard drive space. Another bonus is that additional software can be installed upon request like SickRage, Sonarr, CouchPotato or other programs. The administrator was very friendly and accommodating with all of my questions.
The following software is pre-installed on your SnT Seedbox, remember this is not restricted and additional software is available upon request.
rtorrent and rutorrent for managing your torrent downloads and uploads

autodl-irssi for automated private torrent downloading

Deluge torrent client
Webmin so you can administer your seedbox's services
Sabnzbd if you want to download from usenet on your seedbox
FTP servers so you can easily access the files using an FTP client
Initial Seedbox Setup
After you order the seedbox within minutes you receive an email with all the information you need to access your shiny new seedbox. I have broken it up into sections for readability
User personal info
-------------------
Username: HTPCGuides
Password: htpcguides.com
RPC: RPC13
IRSSI Password: htpcguides
SSH: YES
Sudo powers: NO
Jailed: NO
Here are your home directories, they are all the same
Directories
-----
Home base: /home/HTPCGuides
Home dir: /home/HTPCGuides
Home jail: /home/HTPCGuides
Jail dir: /home/HTPCGuides
These are all the ports you will have open to access your different services, port numbers have been removed for privacy
Ports
-----
SSH port: 22
SFTP port: 22
vsftp port: 21
IRSSI Port: 9999
SCGI Port: 999
RTorrent network port: 9999
SABNZBD HTTPS port: 99999
SABNZBD HTTP port: 99999
Deluge daemon port: 99999
Deluge web port: 9999
Here are the links to access your different services so you don't have to remember port numbers. Notice VPN is also possible with OpenVPN.
Links
-----
SABnzbd: https://htpcguides.snthostings.com:99999/sabnzbd/
ruTorrent: http://htpcguides.snthostings.com/rutorrent/
ruTorrent: https://htpcguides.snthostings.com/rutorrent/
Webmin: https://htpcguides.snthostings.com:999
FTP: ftp://htpcguides.snthostings.com:21/
Deluge: http://htpcguides.snthostings.com:99999
OpenVPN config: https://htpcguides.snthostings.com/rutorrent/vpn.zip
Seedbox rTorrent Interface
All I needed to do was go to https://htpcguides.snthostings.com/rutorrent/ and enter my username and password
Then I saw the rutorrent interface, I noticed an insignificant error which the Administrator quickly fixed.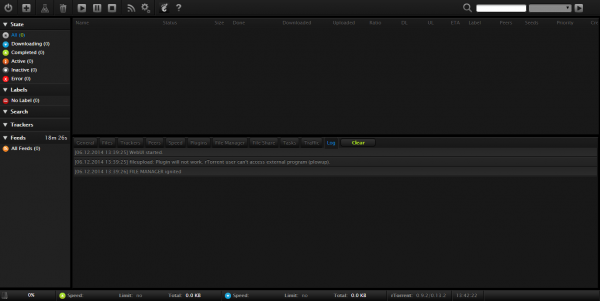 I downloaded a test movie from the Public Domain I always use – Night of the Living Dead. There were not many seeds but I still got 3.2 MB/s

Downloading the Windows Driver udpate package, I saw the speed go up to 16.2 MB/s, that means a 350MB TV show would download in 20 seconds

On private torrent sites the speed was even faster 52.6 MB/s thanks to the 1 Gbps burst mode

Then I left the torrents to happily seed away while my private home internet connection still had its full bandwidth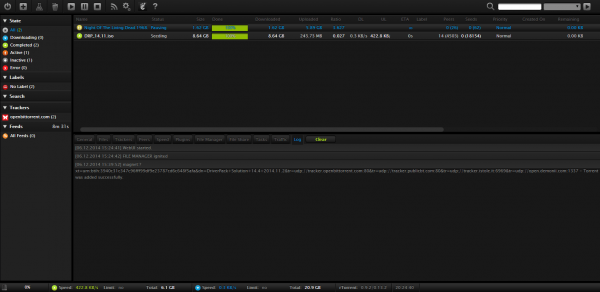 Seedbox FTP Access
For FTP access to the seedbox I used Filezilla. I copied the ftp hostname from my welcome email and put my username and password.
Then I saw the folders on my SnT Seedbox, in downloads/manual I could see Night of the Living Dead and the Driver Update.
From here I could download it straight to my machine, very easy 🙂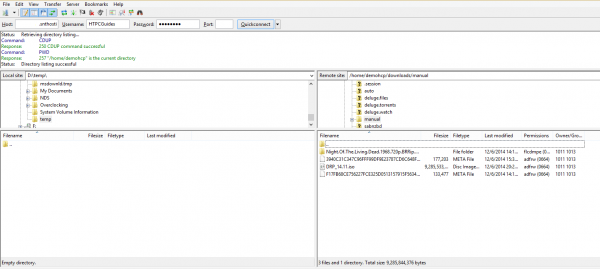 Conclusion
Overall I was very pleased with my first Seedbox experience. The administrator was very accommodating to my barrage of questions and the seedbox did its job very well. Given I have a slow home internet connection, it was amazing to see an 8GB download finish in minutes. The ease of use is also very appealing for new users. For power users who want more control over the box, SnT offers Virtual Private Servers where you get sudo privileges and can do whatever you want.
Advantages
Extremely affordable with many seedbox plans
Good support with possibility to add custom software
Very easy to use
Can use private and public trackers
Unlimited active torrents
Accepts anonymous prepaid credit cards
Disadvantages
No root access without paying for a VPS solution
Advanced setup with OpenVPN will require some user knowledge
More anonymous payment options would be nice like Paysafecard and Bitcoin
If you are curious about the Seedbox world then do give SnT Seedbox a try. Even if it doesn't live up to your expectations you can always get your money back in the first 3 days.