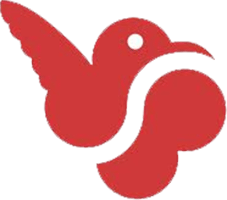 The HummingBoard i1 is a Raspberry Pi clone with serious upgrades for NAS or media server usage created by Solid Run. It packs a 1 Ghz processor, 512 MB of DDR3 memory and a gigabit port which makes serving media files and other data around your home considerably faster. Here is my Hummingboard i1 media server and media center review as compared to the Raspberry Pi. I provide benchmarks and review the available software for streaming TV shows and movies and emulating consoles like the Nintendo 64 and Playstation 1.
HummingBoard i1 Review
I am most interested as the HummingBoard's abilities as a media server to use usenet, torrent and DLNA software as well as its media center abilities: Kodi XBMC and console emulation (SNES, Nintendo 64, PSX). My review therefore focuses on its hardware for media serving and the current development status for various linux distros like Debian, OpenELEC, Lakka (for emulation) and others.
Specifications
400 MHz, CPU 1 Ghz  Cortex-A9 ARMv7 processor
RAM runs at 400 MHz according to this datasheet, the Solid-run website says 800Mbits/s
Pi Unit

Processor

RAM

RAM Bus

Network

USB

SATA

Cost

Raspberry Pi

700 MHz ARMv6
Single Core

512 MB SDRAM

400 MHz

100 Mbit

4

No

$29.99

Raspberry Pi 2

900 MHz ARMv7
Quad Core

1 GB LPDDR2

400 MHz

100 Mbit

4

No

$35

Banana Pi

1 GHz ARMv7
Dual Core

1 GB DDR3

432 MHz

Gigabit

2

Yes

$36.99

HummingBoard i1

1 GHz ARMv7 Single Core

512 MB DDR3

400 MHz

Gigabit

2

No

$70
Benchmarks
CPU Test
I used sysbench to calculate the first 5000 prime numbers. The Raspberry Pi B+ took 168 seconds whereas the Hummingboard i1 took 87 seconds
For the 5000 Pi digits test the Raspberry Pi took 220 seconds and the Hummingboard i1 took only 136 seconds.

RAM Test
Using sysbench to write 2GB of data in RAM the Hummingboard i1 clocked 228 MB/s destroying the Raspberry Pi's 96 MB/s
Using sysbench to read 2GB of data from RAM the Pi lost again with 128 MB/s to the Hummingboard's 255 MB/s
It is clear that using DDR3 memory in the Hummingboard is a serious upgrade.

Network
iperf is the standard for testing network bandwidth. Since the Hummingboard has gigabit ethernet compared to the Pi's fast ethernet I ran two tests: one with Cat 5 cables to test fast ethernet and one with Cat 5e cables to test gigabit.
Even when forced to the same speed the Hummingboard beat the Pi with 94 Mb/s to 68 Mb/s
In the gigabit test the Hummingboard scored 499 Mb/s to the Pi's 68 Mb/s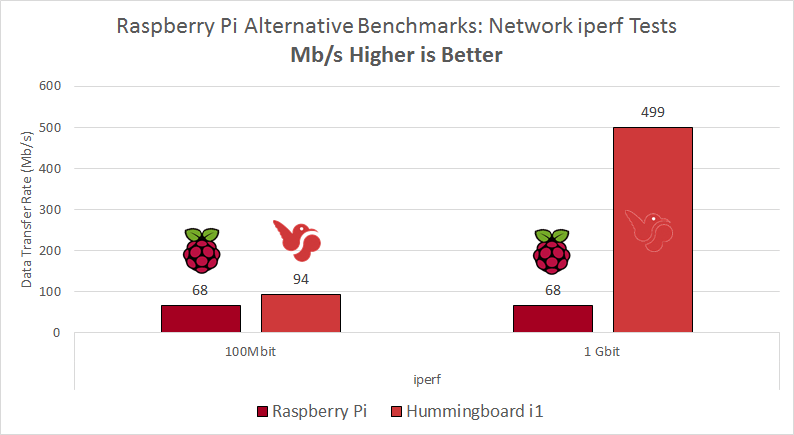 USB FTP
HTPC Guides is all about media server and media centers so I wanted to do a real world test on the Hummingboard by transferring data to a USB hard drive via FTP.
Uploading a 1 GB file went at 21.85 MB/s on the Hummingboard compared to 7.49 MB/s on the Pi
Downloading a 1 GB file went even faster, 22.22 MB/s on the Hummingboard but only 10 MB/s on the Pi.
The Raspberry Pi and Pi 2 share the USB bus with the ethernet port so it reduces overall bandwidth, combined with the limited fast ethernet the Pi and Pi 2 really didn't stand a chance.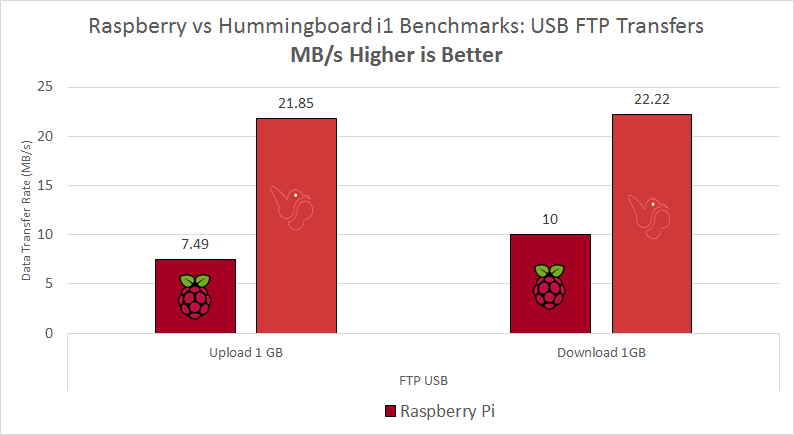 Media Server and Downloader
You can use a great debian distro by the developer Igor which automatically resizes your partitions to fill the SD card on first boot. If you like Fedora that is also available from the Solid Run forum. I opted for debian as it's well supported and most packages are available. I ran it headless with no GUI, however, free RAM was about 330 MB which I thought was quite low for a server edition.
The HummingBoard was able to run torrent and usenet downloading software. I used NZBGet for usenet and Transmission for torrents plus the usual Sonarr, SickRage and CouchPotato for grabbing media automatically. It was able to serve HD media to other devices through miniDLNA, SAMBA and FTP shares. Thanks to its gigabit connection, it could download and serve media simultaneously without causing buffering issues.
Plex Media Server is supported if you use a chroot which basically emulates another CPU architecture inside your regular distro.
One gripe I had about the hardware for NAS media serving was its electric power. Other boards can power a 2.5″ hard drive through the board when using a 5V 2A power adapter. Unfortunately the Hummingboard i1 cannot do this and you need a powered USB hub. This is not a big deal if your USB drives have their own power supply.
Media Center
Kodi XBMC
I prefer the lightness of Openelec so that is what I tested though an Xbian distro is available too in full 1080p resolution. I streamed NTV and Sportsaccess well meaning no noticeable slowdowns compared to my 64-bit Kodi machine. I also streamed HD video from my Banana Pi media server to the HummingBoard i1. I used an iPazzPort remote and wireless mouse to control Kodi. There were no lags were not significant when compared to the Raspberry Pi which can sometimes be slow. I tested playing HD videos like Big Buck Bunny which played smooth in full 1080p quality.
Console Emulation
Emulating classic systems like SNES, Sega Genesis, Nintendo 64, PSX1 is great for a trip down memory lane with your friends. On these small embedded microcomputers the options are typically using RetroPie's emulation station, Lakka (the OpenElec equivalent of RetroPie) or emulating on Android. Lakka and Hummingboard will eventually work together as the developers are in progress of making it work. They were sent the devices August 22, 2014 and have made huge leaps already.
The current Lakka build is able to emulate PS1 at full speed. I tested Crash Bandicoot and it worked very well. I could dominate with Koopa Troopa in Super Mario Kart too without issues using my Xbox 360 controller. The Lakka team are having Nintendo 64 (Mupen64) build issues so it is unavailable to test at the moment but is expected to run games no problem (see Android success below). PSP emulation is a bit slow, whether this is a limitation of the software or hardware I do not know.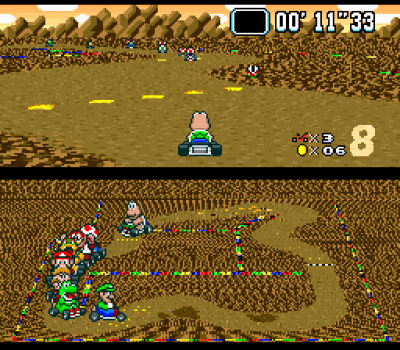 I also tested the Android 4.4 release with emulators which is currently in beta. I tried Mupen64 and some games played very well (Super Smash Brothers) and smooth so it is clear that the Hummingboard has the power to emulate the Nintendo 64 successfully. Once the bugs in the Android release have been ironed out and Mupen64's new version is released it should run Ocarina of Time, GoldenEye and Mario Kart 64. One of the bonuses of using Android to emulate consoles is that you are not restricted to certain supported controllers like you are with RetroPie and Lakka since Android has some built-in drivers for generic controllers.
Conclusion
Pretty much all microcomputers are more powerful than the Raspberry Pi or even the Pi 2. With the Pi 2's release the Hummingboard i1 will have to be priced competitively to be attractive to hobbyists and enthusiasts looking for a Raspberry Pi alternative. If you are looking for a media server or console emulator with a bit more oomf then the HummingBoard i1 may be for you. I would like the development community to be larger so Android becomes a better experience – though the other HummingBoard units are well-supported for Android KitKat.
Advantages
More powerful than the Raspberry Pi with DDR3 RAM and gigabit ethernet
Powerful enough to emulate Playstation 1 and Nintendo 64
Good media center support for OpenELEC
Disadvantages
Needs more development for Android
Could use a more RAM optimized debian distro
Cannot power 2.5″ hard drive with a standard 5V 2A power adapter
You can buy the HummingBoard from Solid Run's partners