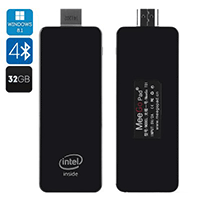 The MeegoPad T01 was silently released in 2014 running full 64-bit Windows. It is a full HTPC TV stick that competes with the Amazon Fire TV and other Android HTPCs. It is the same as the Intel Compute stick which Intel announced would be released in 2015. I got one for Christmas as I saw its potential to replace my old noisy laptop running as an media server and center. Read on to see how I replaced my noisy laptop with one of the most versatile TV sticks to hit the market which beats any other low powered device in functionality.
Update: the MeegoPad T02, T03 and T04 have been released with fewer heat issues.
I started experiencing heat issues with the T01 just last week (October 7th, 2015), my deepest apologies to anybody who bought the T01 and experienced them after buying one as a result of this review.
MeegoPad T01 Review
Specifications
Baytrail Atom Z3735F 64-bit quad core CPU that runs at 1.33 GHz and turbo bursts to 1.83 GHz with 2GB of 1333 MHz DDR3 RAM. The wireless module is a Realtek RTL 8723BS with 802.11n and Bluetooth 4.0.
It has eMMC storage from 16 or 32GB and a microSD slot in case you want to expand storage with a tiny card you have laying around. There are also 2 micro USB ports and one full size USB port for connecting mice, keyboards, webcams, external hard drives and whatever else you can connect to your Windows desktop or laptop.
Unit

CPU

Cores

RAM

Bus

USB

Wireless

Storage

Amazon

Intel 1.33 GHz
1.83 GHz Burst

4

2 GB

1333 MHz

1 Full
2 Micro

802.11n
Bluetooth 4.0

16/32 GB MMC
Speed tests
I ran some casual benchmarks to see how I would be able to transfer media via FTP over a Gigabit connection.
FTP uploading to e-MMC around 13.33 MB/s
FTP downloading from e-MMC 32.25 MB/s
FTP to USB hard drive download 30.3 MB/s
FTP to USB hard drive upload 11.23 MB/s
The only difference I can see with the Intel Compute Stick and the MeegoPad T01 is that the Compute stick comes with Windows 8.1 Bing edition whereas the MeegoPad T01 comes with Windows 8.1 that you have to activate yourself. Others speculate that the Intel Compute Stick and MeegoPad T01 are probably made at the same Chinese factory and just rebranded which is common practice among laptop resellers.
Use Cases
Anything you can do with a regular Windows machine you can do with the MeegoPad T01. It has regular browsing capabilities, you can install any application on it like Netflix, Amazon Prime Video, Hulu, Spotify and Kodi XBMC.
You can bring it with you to a business or school presentation with a mini remote to show your slick PowerPoint presentation.
You can even run it headless as a home media server or NAS and remote control it with TightVNC.
I chose to run the MeegoPad T01 as an HTPC media server and center.
My Old HTPC Media Server and Center
I am a student on a budget but I wanted as complete a media server experience as possible. Last year I bought a used Dell Latitude E6400 which has an Intel Core Duo 2.53 GHz and 4 GB of RAM running Windows 7 – I couldn't use Windows 8 because of graphics driver issues. I installed uTorrent (for RSS feeds for foriegn content only), Transmission, SickRage, Sonarr, CouchPotato and Sabnzbd on it for grabbing media automatically from usenet and torrents. For serving media around the house to other devices I installed Plex Media Server . I primarily use Kodi XBMC for watching my media collection with NTV and Sportsaccess plugins for streaming live TV.
The Dell was also my Nintendo 64 and SNES emulator using my Xbox 360 controllers. This trusty little laptop was only ever using 1.5 GB of RAM since I don't transcode using Plex because transcoding should always be avoided for maximum quality. I noticed over the last few months when watching anything on the Dell the fan is annoyingly loud. I tried Speedfan, undervolting and exposing the air vents to control the fan but nothing worked despite the vent being clean. When I learned about the MeegoPad T01 I was very intrigued if it could replace my noisy old laptop HTPC media server combo setup.
I had looked at Android HTPCs and considered using a Raspberry or Banana Pi but they do not give me the HTPC combo capabilities. The Banana Pi is great at serving and download media but currently lacks hardware acceleration for Kodi. Android HTPCs mean I'm limited to Android games and software, the Raspberry Pi can run Kodi well but lacks the power to download and serve media via Plex.
MeegoPad T01 as Media Server
Since the MeegoPad T01 runs Windows, I didn't have to worry about any of my software running on it. It has e-MMC storage and it booted in about 20 seconds which I found impressive.
Currently my laptop HTPC media server combo costs me about 50 dollars a year to have running 24 hours a day. Moving to this MeegoPad T01 it will cost me just under 9 dollars a year to have running 24/7. So I get the same functionality for my purposes and save money on my electricity bill, the device will have paid for itself in 2 years.
I used a USB 3.0 to Gigabit with 3-port hub which means I don't have to deal with WiFi and I get maximum throughput. I also now have 2 extra USB ports on top of the original USB so I could connect 2 external hard drives which contain my media collection. The 3rd USB port was used for my wireless keyboard remote combo device the iPazzPort to control Kodi XBMC. When I connected a 3rd hard drive that did not have its own external power I did need a powered usb hub and plugged that straight into the MeegoPad T01 and the USB to ethernet into the hub.
One thing that annoyed me was I could not power a 2.5" hard drive with supplied adapter so I had to get a powered USB hub. You may be able to use a higher amp power adapter with the MeegoPad T01 to power your 2.5″  hard drives. Of course if you already have a separate server, powered USB hub or externally powered USB hard drives this matters little to you.
I streamed through Plex Media's DLNA Server to an Openelec machine while downloading full speed on the MeegoPad T01. Streaming to Kodi XBMC on Windows was also problem free. I use gigabit ethernet with a separate switch to the router all around the house so streams started instantly.
As soon as I used WiFi clients things were less ideal – this could be because I only have the shitty router from the ISP. When I wanted to stream to WiFi devices I had to turn the download speed down to 60% of its full capacity which suggests that it's the router's fault and couldn't handle downloading and using the full wireless bandwidth to send the video files simultaneously.
MeegoPad T01 as Media Center
Everything from Netflix, Amazon Prime Video, Hulu to Kodi XBMC and streaming inside browsers was no problem. The interface was lag free and Kodi loaded very quickly. It was a fresh change to be able to leave Kodi to stream ITV in Google Chrome. You can also use the Windows 8 apps for Netflix and Hulu plus.
I setup Nintendo 64 and SNES emulators to play Mario Kart with my friends using my XBOX 360 controllers. I didn't test PS1 but I imagine if it is compatible with the graphics card then it will run just fine. I couldn't play Payday 2 on it using Steam however as games the GPU is not powerful enough, but I have my Alienware laptop for gaming. I played Android games like Angry Birds using BlueStacks which shows how flexible the MeegoPad T01 is.
Conclusion
The 32 GB MeegoPad T01 still had 15 GB free after I installed all of the usenet, torrent and media center and serving software. It is easy enough to get started for casual users and fun to play with for enthusiasts as you can triple boot Windows, Ubuntu and Android on it. You can simultaneously download using the MeegoPad and watch local media on its USB drives through Kodi XBMC or VLC Player without issues while streaming via Plex. It is not powerful enough to do real gaming but casual gaming to emulate the Nintendo 64, SNES and other emulators or Android games is a nice bonus with any controller that supports Windows. I personally am willing to sacrifice the raw power to save on my electricity bill while retaining the full functionality I require from a HTPC Media Server and Center Combo device.
The MeegoPad T01 is available for about 100$ on Amazon, Aliexpress or eBay.
Advantages
Full Windows PC which gives you more possibilities than Android HTPCs
Kind to your electricity bill using about 10$ worth of electricity per year
Powerful enough to serve, download and play media simultaneously
Disadvantages
No included Windows license
Cannot power 2.5″ hard drive using provided adapter
Overheating issues, see the MeegoPad T02