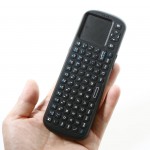 I am always looking for cheap wireless remotes for streaming home media servers. I stumbled upon the iPazzPort because it was under 20 dollars and included both a keyboard and touchpad solution. On eBay
it is available to ship everywhere. It can also be found on Amazon
 for the US and Europe.
iPazzPort Remote Review
At 5.5cm wide (2.25 inches) and 15.5cm (6 inches) long, weighing 85 grams (with the 2 AAA batteries) it is the size of a standard TV remote. This cheap remote has a full qwerty keyboard and built in touchpad. It uses an RF 2.4 ghz dongle which plugs into any USB port. I had no communication issues within 6 meters so the range is good. My apartment is not that large so I could not test beyond 6 meters.
The iPazzPort boasts plug and play functionality. It worked instantly on my Windows HTPC. In XBMC, I was able to pause using the space button, type in captchas for Icefilms. Moving around the mouse using the touchpad was ok, given its size it was never going to be that good but it will get the job done with a little patience. It has a 4 way directional pad underneath the touchpad to navigate XBMC and Plex Home Theater (tested on RasPlex)
The one gripe I had with the remote was that it goes to sleep to save power so at times I had to push spacebar twice, once to wake it up and another to actually pause. However, this using the iPazzPort to pause was still faster than using a wireless mouse to find the pause button.
I can certainly recommend this remote if you are looking for a small handheld budget remote and need to type from time to time on your HTPC. At under 15 dollars from eBay
 or under 20 dollars from Amazon
it is certainly worth testing if it is a good fit for your htpc media server setup.
If you have any experience with the iPazzPort remote, let me know in the comments below :).
Price Disclaimer
Summary
Reviewer
Review Date
Reviewed Item
iPazzPort HTPC Remote Keyboard
Author Rating