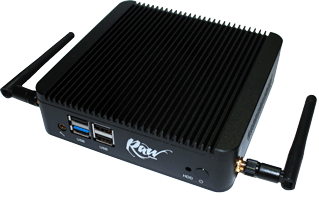 There are so many HTPC devices out it is hard to find devices that differentiate themselves. There are Android boxes all very similar but where it gets interesting is the devices running x86 of amd64 CPU architecture because it opens the possibility for multiple operating systems we are used to on powerful laptops and desktops. I received the Raw mini 2 which is designed by these Canadians. All of my encounters with Canadians have been positive, they are a friendly and helpful people, how well do they design HTPC hardware?
Raw Mini 2 Review – HTPC Combo Review
Encased in aluminum the Raw Mini 2 has great build quality, looks sleek and is silent which is essential for me to maintain sanity in my living room. I burst my ear drum when I was a kid and have been hypersensitive to sounds ever since.
Specifications
Intel Celeron Dual Core J1900 2.0 GHz (2.4 GHz burst, 2 MB cache)
2 GB DDR3 RAM (upgradeable to 8 GB)
8 GB mSATA SSD (upgradeable to 256 GB)
4 USB 2.0 ports
1 USB 3.0 port
Gigabit ethernet
802.11 n 2.4 GHz wireless with dual antennas
Rii i8 back-lit wireless remote


Customizability and Expandability
I cracked open the Raw mini 2 to see what it looked like inside. There is a giant heat sink to keep the device cool and a SATA port! Unfortunately there is no space in the raw mini for a SATA hard drive and this is definitely I would change: making a modular design with space for a 2.5″ hard drive would be very cool, especially since it is so easy to open and would offer users expanded storage without having to rely solely on the rather small 8 GB mSATA SSD. I had an extra 32 GB mSATA SSD and popped that in and installed Windows 10 just for fun to test console emulation and streaming using Windows Silverlight.
Rii HTPC Remote
The Rii remote is by far the best wireless remote control I have used for an HTPC. It makes no compromises, sporting a full qwerty keyboard, trackpad, navigation and playback buttons. I have been using it one-handed to navigate playlists and Kodi add-ons. It comes with a rechargeable battery that you can charge using micro USB, so far the battery has lasted 2 weeks without needing a charge probably because it goes  into standby mode when not in use. That does mean you have to double tap a button to wake the device up which is a minor drawback of this otherwise great remote. One other issue I had was with losing reception which Geoff from Raw Media explained is because of the wireless frequency used by the remote. Using the provided extension cable for the wireless dongle has eliminated the connectivity issue.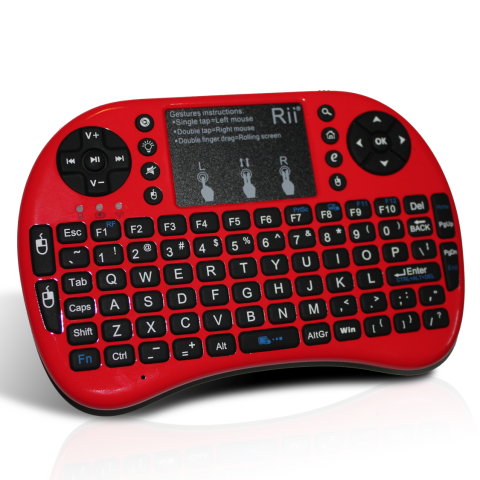 Media Center
Kodibuntu is simply Kodi installed on a lightweight Ubuntu without the bloat. Using Kodi is very snappy on the Raw mini thanks to the SSD hard drive and Intel Duo Core CPU. I prefer subscription add ons like NTV and Sportsaccess which I installed and integrated with Electronic Programming Guides FTV Guide and TV Guide. Along with the included add-ons that get you everything from TV and movie streams to sports, practically every content type is now available to me on demand with the command of the fantastic Rii remote. Couple this with a VPN like Private Internet Access or PureVPN (which both have Linux set up guides for OpenVPN) I am truly unrestricted.
The unit I was sent is in its final revision stage. Vanilla Kodibuntu is not the most user friendly operating system for users accustomed to Windows but Linux is customizable. For example, the wireless connection was not already enabled but I am familiar enough with Ubuntu to enable it. However, a first run wizard to guide me through the initial setup and would be welcomed by users new to Linux. There are video tutorials on the Raw media Youtube channel or nicely organized on their support site. I still would have preferred a friendly interface when I turn on the device for the first time which is something they are working on and will look something like this.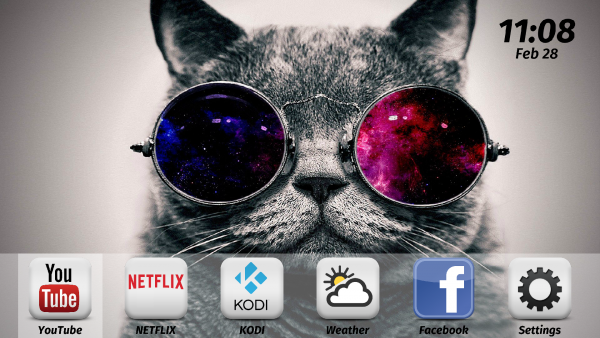 The Raw Mini 2 had no problems with 1080p video playing back locally or streaming from Youtube and various other streaming services.
Raw Media have a repository that they maintain for the latest add-ons so you should always have working Kodi add-ons for streaming. Add-ons can temporarily have issues Raw media will find the fixes as quickly as possible and push the fixes to the repository which means you won't have to hunt around looking for a fix.
Media Server
Living in a small apartment I have no server room. I had noisy electronics in the living room so having a flexible device that can fulfill multiple roles and be quiet doing them. Using the HTPC Guides Installer, you can install Plex Media Server, usenet and torrent automation software like Sabnzbd, NZBGet, Sonarr, SickRage, Headphones, Mylar and others.  You are able to transcode your media using Plex on the Raw mini because of its Intel dual core CPU and I noticed no slowdowns simultaneously using Kodi on the Raw mini and streaming via Plex to ethernet connected clients.
Read about usenet for content automation.
HTPC Combo
The power of the Raw mini enables it to be a compact, silent and versatile HTPC device for your living room. It is fanless and has a core 2 duo CPU so it can be used for transcoding with Plex Media Server while downloading and playing back content in Kodi. I used my HTPC Installer to put Plex Media server and other automation software for usenet and torrents gathering content on an external USB hard drive. Thanks to the gigabit ethernet, transfer rates to other devices reaches 100 MB/s when using USB 3.0 over FTP.
Game Emulators
The Raw mini will run most emulators for class console gaming emulation: SNES, N64, Sega Genesis and others. Thanks to its powerful Intel core 2 duo processor, you can run Playstation emulators too. I only tested console emulation on Windows, however, emulation on other Linux emulators on the Raspberry Pi work well so I have little doubt they wouldn't work on the more capable Raw Mini 2's hardware.
Support
Support for HTPC devices is critical for novice users. The Raw Media team take customer service very seriously and have created how to video tutorials and a forum for resolving issues and accepting feedback for improving the overall Raw media experience. They also have toll free phone support and a blog where they post updated fixes for Kodi add-ons.
Conclusion
Overall I am very impressed with the Raw Mini 2. It offers excellent functionality for casual users with its array of Kodi add ons and provides a great platform for advanced users with which to tinker. I will definitely continue to use the Raw Mini as my HTPC combo device for all of my Kodi media center needs and media server requirements.
The Raw Mini 2 is available on the Raw Media Shop.
Pros
Silent, powerful and compact
Moderately user friendly
Very fast – SSD + Gigabit + USB 3.0
Upgradeable
Cons
Price
Electricity footprint
Extension cord for mouse dongle
Lack of modular design for adding 2.5″ SATA drives
Summary
Reviewer
Review Date
Reviewed Item
Author Rating